III.3.2 - Poetry with Scratch (activity for primary schools)
–          School where it was designed and implemented: "Constantin Ianculescu" School (Romania).
–          Estimated duration: 6 hours (can be split as desired).
–          Age: 8-10 years old.
–          Materials and technological resources: computers (1 per team), Internet connection, papers and pens.
–          Number of students: 10-30.
–          Teams: ideal for groups of two or three kids.
Activity goal: learn English, learn about poetry, about programming, improve digital skills and enhance teamwork.
To take into account: although the activity shows an example related to Halloween, it can be implemented in the framework of other celebrations (Christmas, etc.), or with completely different poems. It was an activity for an English class (ESL, English as a Second Language), but it can be carried out in any other language class, or even in an art or technology class.
Activity description: the students use a poetry entitled "Happy Halloween". They use their imagination and their Scratch knowledge to create a digital story according to what they have read before.
Steps:
The poem selected was "Happy Halloween", which was shortened in order to match their level of understanding.
Happy Halloween!
White ghost, white ghost, what do you see?
I see a black bat looking at me.
Black bat, black bat, what do you see?
I see a brown owl looking at me.
Brown owl, brown owl, what do you see?
I see a black cat looking at me.
Black cat, black cat, what do you see?
I see a jack-o-lantern looking at me!
Happy Halloween!
Step 1: The teacher helped the children translate (to Romanian) and understand the poem.
Halloween fericit!
Fantoma alba, fantoma alba, ce vezi tu?
Eu vad un liliac negru care se uita la mine
Liliac negru, liliac negru, ce vezi tu?
Eu vad o bufnita maro care se uita la mine.
Bufnita maro, bufnita maro ce vezi tu?
Eu vad o pisica neagra care se uita la mine.
Pisica neagra, pisica neagra ce vezi tu?
Eu vad o lumina de dovleac care se uita la mine!
Halloween fericit!
Step 2: Children open Scratch, and they delete the sprite cat. Then they choose the right backdrop. They click the "Backdrops" block and then "Fill with color" to choose the colour and the shade they consider suitable.
Step 3: They choose the characters of the poem: the pumpkin, the ghost, the bat, the owl and the cat. If they can't find sprites for these characters in the Scratch library, then they look for them on the Internet.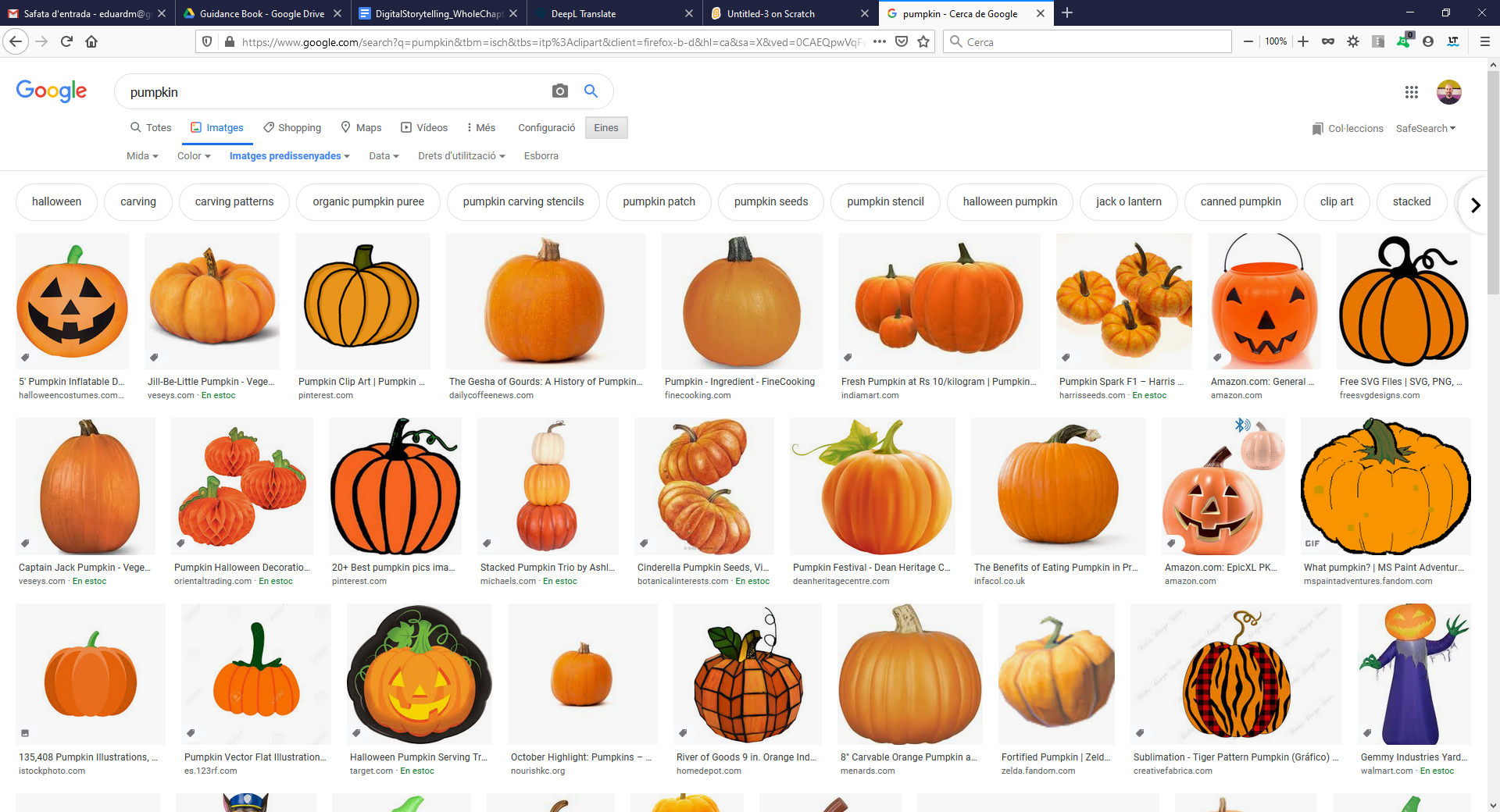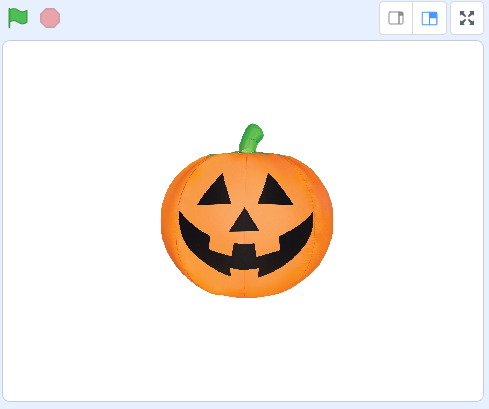 The teacher can show them how to save a certain picture and then use it in Scratch as a Sprite. Sometimes that means that children will have to remove the background of the image or make it bigger or smaller. These are great opportunities to improve digital skills.
Once they have all the sprites within Scratch, they can modify them, change colours, create costumes, etc.
Step 4: children can start programming, trying to make the characters move, show, hide and say the verses of the poem. In order to do that, it's interesting that they first write on paper a simple dialogue for each character, or that they draw with pencil a basic storyboard including the verses that each character will say.
Step 5: the Scratch blocks below are the main coding instructions that children will require. The teacher can explain how to use them with examples, depending on the Scratch knowledge of the pupils. The teacher can let the students explore other blocks. If the children have little knowledge of English, they can use Scratch in their mother tongue.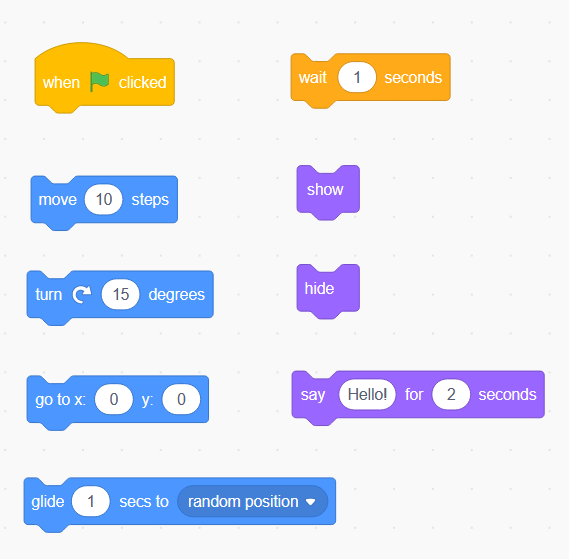 Step 6: the activity is very open and can have many variations. For example, text-to-speech blocks could be used, or the children could record their own voices to practice English speaking.